Step into our exclusive Champagne Room, where Dom Pérignon Champagne flows and tantalising bites and luxurious caviar delight the taste buds. Immerse yourself in a sophisticated ambience, featuring golden accents and a sparkling champagne tower to create memories that will last forever.
Champagne wishes and caviar dreams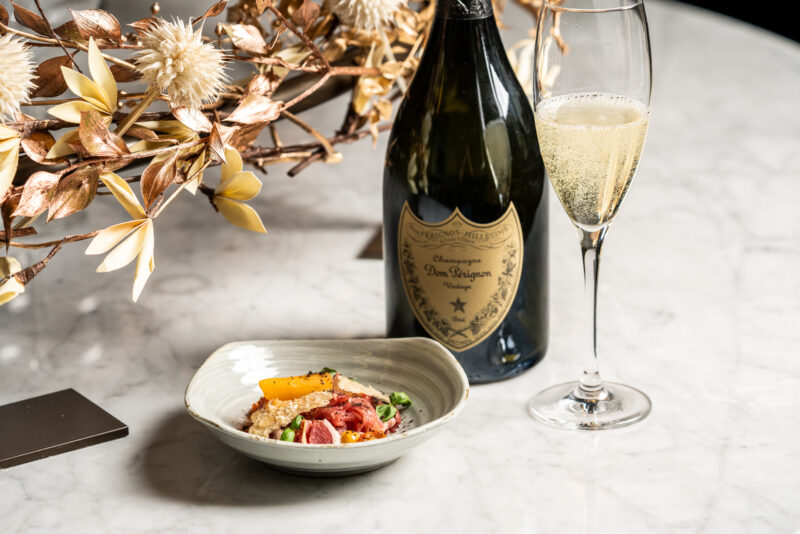 Embark on a sensory journey with every sip of Dom Pérignon Champagne. We are happy to advise you and explain more about the origin of the sparkling gold, as you enjoy a single glass or indulge in a bottle.
Immerse yourself even more with our pairing bites, carefully selected by our chef to enhance the champagne's flavour.
To complete this extravagant affair, we invite you to treat yourself to perfection with ANNA Dutch Caviar. These exquisite dark olive, brown pearls, with their unique flavour profile showcasing hints of nuts and light sweet & creamy patterns, perfectly complement the outstanding flavours of Dom Pérignon Champagne, creating an unforgettable pairing that will leave you craving for more.
See you soon?
Reserve your spot in our Champagne Room and let us elevate your Festive Season and New Year celebrations to new heights!
NOVEMBER - DECEMBER - JANUARY
EUR 499 per Dom Pérignon Champagne bottle
EUR 99 per glass of Dom Pérignon
EUR 95 per caviar serving